Source: https://auto.ndtv.com/news/f1-2017-seba ... en-1704953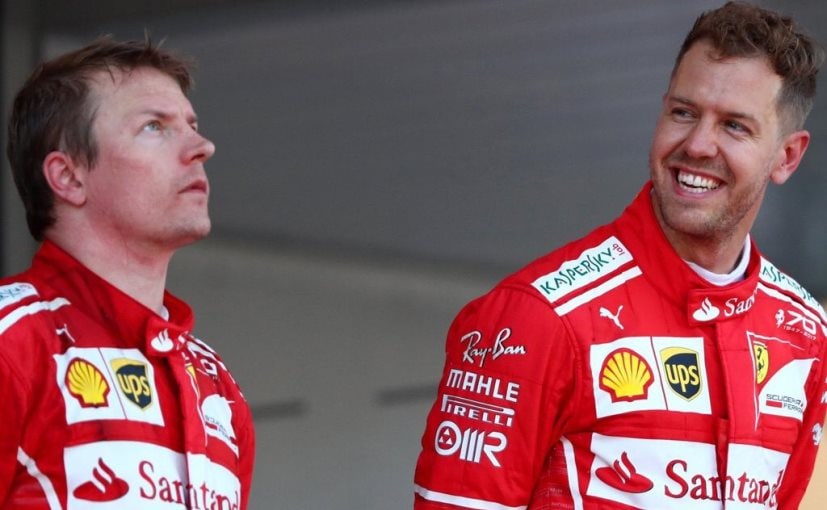 2017 MONACO GRAND PRIX RESULTS
Wow, that was an exciting motor race last weekend! Just a shame about the Honda engines, but still a battling drive from Sato and Cas- ... oh, there was a different race that day? You mean they actually raced in Monaco? I thought it was just some sort of 78-lap long parade!
Actually, I almost felt like I was in the Monaco GP. At the time, I was driving from my hotel to IMS, and the traffic was so congested I couldn't do more than inch along behind the car in front!
Okay, enough with the roasting. While lethally boring on track, the Monaco GP did still throw up a few surprises, most of them on Saturday: with Kimi taking his first pole in almost 9 years, and Hamilton qualifying in 13th for the first time in just as long, the stage seemed set for a very low-scoring round in our competition. If the field had finished in the same order it started, the highest score would have been a 3. It wasn't to be, however: call it brilliant driving by Vettel or call it conniving Ferrari pit strategy, but we all know what happened. Vettel jumped Kimi by staying out longer on the Ultra Soft tyre, and Ricciardo jumped both his own teammate and the Mercedes of Bottas to snatch third. While 82% of those who filed predictions correctly foresaw a Vettel victory (a case where making your predictions
before
qualifying is probably beneficial!) three of them also placed Ricciardo in third, earning them a joint win.
NOTE: Initially, it was reported that TheDamus had won the round. This was an error, caused by my seeing his post to say what he would have picked and taking it as a revised prediction without actually reading it.
----------------------------------------------------------------------------------------------------------------------------------------------------------------------
First Place - 6 points
Icemanjee1, Jenson's Understeer, Jezza13
Second Place - 5 points
Remmirath, Fountoukos13, Black_Flag_11, Bentrovato, TypingChicane, mcdo, Exediron, robins13, Ruste13, cm97
Third Place - 1 point
Mayhem
The Rest
Herb, Lotus49, TheDamus
(0 points)
Did Not Start
theferret
----------------------------------------------------------------------------------------------------------------------------------------------------------------------
To say this was a generally flat-scoring round would be an understatement, but there was still some movement in the standings - chiefly from everyone moving past those four unlucky individuals who fell behind the pack in scoring.
Most significantly, championship leader TheDamus failed to score, allowing Icemanjee1 to catch up and enter a virtual tie for the lead, broken by number of perfect podiums. Behind them, Black_Flag_11 and TypingChicane remain even on points, although Herb drops from the tie by failing to score this round. The pain doesn't end there for our one-time championship leader, however; Herb's fall goes all the way to 7th, allowing mcdo and Exediron past as well. Usually you need a Honda engine to drop so quickly from a competitive place!
Individual Standings - Round Six
1.
TheDamus ---
34 Points
(1 Perfect Podium)
2.
Icemanjee1 ---
34 Points
(0 Perfect Podiums)
3.
Black_Flag_11 ---
28 Points
(1 Perfect Podium)
4.
TypingChicane ---
28 Points
(0 Perfect Podiums)
5.
mcdo ---
26 Points
(1 Perfect Podium)
6.
Exediron ---
24 Points7.
Herb --
23 Points
(1 Perfect Podium)
8.
Jezza13 ---
24 Points
(0 Perfect Podiums)
9.
Mayhem ---
22 Points
(2 Wins)
10.
cm97 ---
22 Points
(0 Wins)
11.
Jenson's Understeer ---
19 Points
(1 Win)
12.
Ruste13 ---
19 Points
(0 Wins)
13.
Bentrovato ---
17 Points
(2 Second Places)
14.
Remmirath ---
17 Points
(1 Second Place)
15.
theferret ---
16 Points16.
robins13 ---
14 Points17.
Fountoukos13 ---
13 Points18.
Lotus49 ---
12 Points
A.J. has been removed from the official qualification by consensus, and will remain in limbo on 8 points pending a return at some future date.
In the team standings, things remain competitive at the top, with Bernie's Bwoah retaking the top place from Drive Sauber and earning themselves a small cushion in the process.
Behind the big two, the battle for best of the rest remains hot as ever; a weak round for Jalopy Racing, with their usually-consistent lead driver failing to score, sees them barely clinging on to their 3rd spot; behind them, McLotus has fallen victim to their own inconsistency, and has been surpassed by the 2015 & 2016 champions No Limit Excedrin Racing and McLotus, who continue to climb the field together on their consistency more than any spectacular efforts from either side.
At the back, the total and complete collapse of the defending champion robins13 continues to play out before our eyes in horrifying fashion, his Sand Bag'n team only barely holding on to 7th place ahead of Massa Attack, and that probably only because theferret didn't even turn up. Bentrovato must surely be left questioning his luck with absentee teammates by this point.
Team Standings - Round Six
1.
Bernie's Bwoah
(Icemanjee1 & cm97)
---
56 Points2.
Drive Sauber
(Remmirath & TheDamus)
---
51 Points3.
Jalopy Racing
(Herb & Jezza13)
---
46 Points4.
No Limit Excedrin Racing
(Exediron & Jenson's Understeer)
---
43 Points5.
Mind Your Manors
(Black_Flag_11 & Fountoukos13)
---
41 Points6.
McLotus
(Lotus49 & mcdo)
---
38 Points7.
Sand Bag'n
(robins13 & Mayhem)
---
36 Points8.
Massa Attack
(theferret & Bentrovato)
---
33 Points
Sebastian Vettel has secured for himself a healthy lead of a whole race win at the top of the F1 standings, but there is no such respite for either of our championship leaders, who sit tied on points and barely ahead of the midfield. Which will crack first, or will they both be swallowed by the chasing pack by the end of the season?
We won't find out in Canada - it's just the seventh race. But with what should be a strong Mercedes track, and one where Valtteri Bottas and Lewis Hamilton have both historically gone very strong at, will we see the red tide held at bay, or will Sebastian Vettel claim an almost-unassailable 30+ point lead before we head back to Europe?
Also to keep an eye on, the knock-out cup becomes active after this weekend, and if I've done my math right it begins with a match-up of the reigning Knock-out Cup Champion vs. the reigning Top Three Champion!