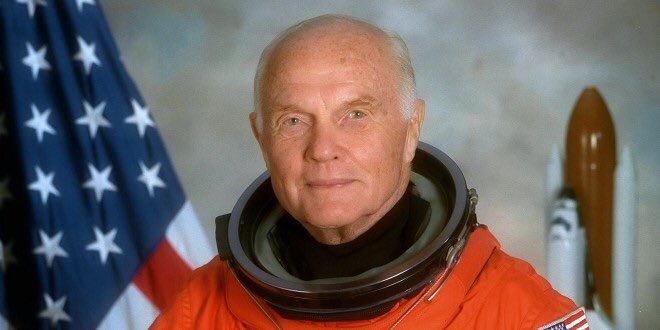 From abcnews.com
Then Senator John Glenn with space suit as a member of the Space Shuttle Discovery in 1998. 36 years after his orbit around the Earth.
The space program are in mourning following the loss of an aeronautical legend. Former Astronaut and Senator John Glenn passed away after he was hospitalized for a stroke. He was part of Project Mercury along with 6 others:
LT (later CDR) Malcolm Scott Carpenter (1925–2013), USN
Capt (later Col) Leroy Gordon "Gordo" Cooper, Jr. (1927–2004), USAF
Capt (later Lt Col) Virgil Ivan "Gus" Grissom (1926–1967), USAF
LCDR (later CAPT) Walter Marty "Wally" Schirra, Jr. (1923–2007), USN
LCDR (later RADM) Alan Bartlett Shepard, Jr. (1923–1998), USN
Maj Donald Kent "Deke" Slayton (1924–1993), USAF
After his military career (Retired from the US Marine Corps with the rank of Colonel), he attempted a new career in politics before becoming Senator in 1974.
Our hearts go out to his family.
And the Mercury 7 are back together.
http://abcnews.go.com/US/tributes-pour- ... d=44070252