Steve C wrote:
We can end this right now if you'd like. Nobody I know likes war. Nobody I know likes senseless killing. We have friends in the world and I bet your country is a friend of America. I'd like for us to pull out of countries that don't like us but still maintain a presence close. After 9/11, America pulled together to defeat the terrorist and pronounce terrorism as bad.
You mean, "we" can end this right now, like what?
Since the end of WW2, one single country has been conducting more wars and military interventions than any other country in the world, and all of it exclusively on the other countries' soil. Yes, that's right. It's America. Have a look: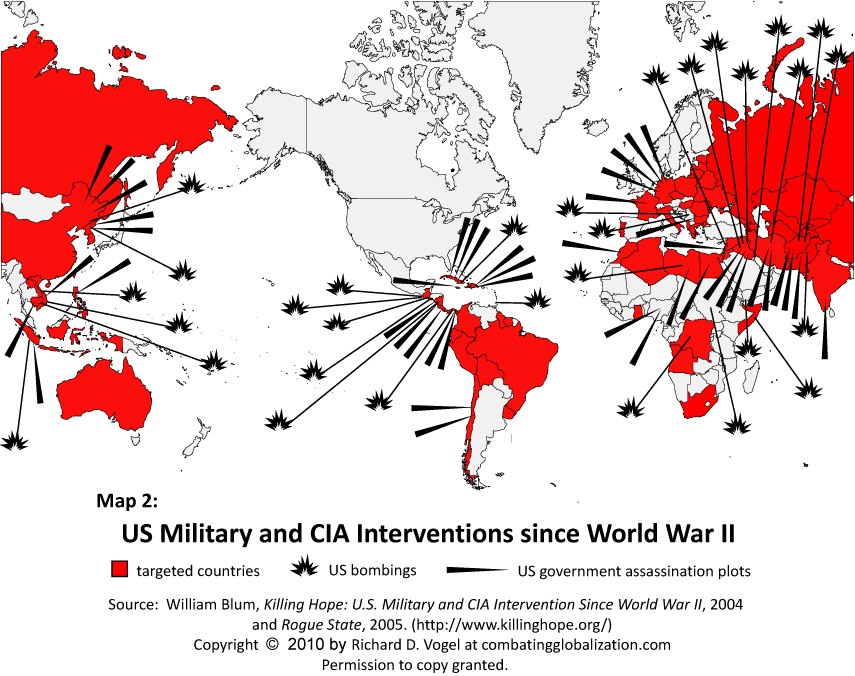 The toll has been over 100 000 of American lives and many hundreds of thousands wounded. The estimation of other nationalities mortal casualties due to these American military interventions go all up to dozens of millions. That's right, millions upon millions.
So yes please, what you might consider stopping now is that cynicism of talking about not being liked by some of those countries, about your freedom fighters so selflessly fighting for Freedom and Democracy, you ensuring free oil flow to the world (rather would be the free flow of billions and trillions of dollars into certain American accounts), yours waiving around with your civilized Constitution that apparently gives you for right about anything that you decide to do and takes away the rights from anybody else that you decide so...
But the wars... that you can't stop right now, nor in a close future. You are stuck in that over your ears. What do you think that all that insane amount money for your military, by now going towards 1'000 billions of dollars a year, is all about? Perhaps for the sake of ending the military operations? You better bet you can't stop that.
And stay assured, those couple of percents of super rich people in your country, that you so eagerly defend their rights to be rich beyond any sense, and that keep the American war machine well oiled for their own profits, stay assured that they will not send their kids to these wars there to lose their lives and limbs and come back screwed for life due to all that (sense-full?) killing that they take part in. No. The wars, that is but a business. So they will send you and your kids there by telling you "Look, there are real bad guys who are after you and your freedom, they don't like our Constitution, go get them!" (and sure enough, few real bad guys have been manifested along the time, which is only good for the business). And then they will make more money. And they will also tell you how America is the country of opportunity (as if no other country is) and if you just work hard enough you and/or your kids might also become billionaires one day just like them... so don't let "socialists" come close to you and your opportunities.. and your money.
(yes, now would be the right time for your 'OMG')